PortlandNeighborhood's Guide to the Perfect Portland Weekend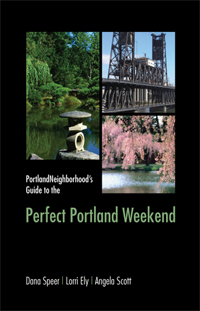 ISBN: 9781432716301
Press Release
Sales Sheet:
Purchasing Information
ISBN: 9781432716301 Suggested retail price: $14.95. 50% Trade Discount
---
Book Summary
Put that yawn away and get ready for a trip with PortlandNeighborhood.com's weekend guide to Portland, Oregon. But if you're looking for boring, colorless listings of restaurants and attractions that drone on and blur in abstraction, you might just want to bend your elbow the other direction and set this volume down. This just isn't that book. Rather, the pages here read like a friend having taken you by the arm, inviting and guiding you into and through the Portland that makes Portland tick and that Portlanders themselves call home. Using themed weekend itineraries based on interest types to make the city more mentally accessible, PortlandNeighborhood's Guide to the Perfect Portland Weekend is like a backstage pass to what makes Portland a rock star!
First of all, to know Portland is to know that it is not a city. Portland is a culture. We may not always be on the same page, but together we're writing a really good story. Ultimately, it's a story about America, the way it used to be – before every corner block in every city offered the same three restaurants, before driving out of one town and into another became an indistinguishable experience, before the illusion of choice became mistaken for freedom.
But this book isn't a political manifesto. It's a celebration. It's an exaltation about the way in which Portlanders have banded together to rejoice in difference. In the process we couldn't help but set ourselves apart. The purpose of this book then is simply to share the ways in which the unique and special are manifested within Portland's distinct and inimitable neighborhoods, their businesses, and their people.
Rather than simply list and review establishments, however, we thought you might find yourself better able to navigate the plethora of options available in our fine burg of over four-score individually styled neighborhoods if we devised a pattern of approach. In other words, we've attempted to make Portland more mentally accessible, possible to wrap your mind around, by conceiving every chapter as representing a different hypothetical weekend, each with its own theme.
You can follow one of our themed weekends from A-Z...or you can choose to sit back, laugh yourself silly and have a great time mixing and matching ideas from chapter to chapter, creating your own perfectly tailored, exceptionally unique Portland weekend. Even if you never leave the couch, you'll have a great time!
We've read every single guide book to Portland and have found nothing that comes even close to what we have been able to capture in this tell-all guide to your perfect Portland weekend. We've left no stone unturned in our research and promise even a long-term Portlander will discover something new and fascinating about our fabulous city.
Book Chapters - Portland Weekend Itineraries
Romantic Weekend
Active Weekend
Highbrow Weekend
Cheap Weekend
Nature Weekend
Family Weekend
Sports Weekend
Shopping Weekend
Getting around Portland
Plus, the book includes a chapter on how to get around Portland, with helpful transportation options.
---
Author Biographies
We are longtime Portland locals on a mission: to enjoy and promote our Portland neighborhoods and the independent businesses, artists, and neighbors who thrive in them.
Dana Speer has worked as a fulltime film and television writer for ten years. When Dana arrived here from her home in Long Beach, California, she found herself suddenly in a passionate panic to uncover it all. That moment, there and then, she began exploring this city of roses, this city of bridges, this city of beer, this city of smiles. She didn't comb the streets. She scoured them, over and over, back and forth, as many as she could lay her feet on. The problem was, however, she had nowhere near enough people to tell about the treasure she was unearthing like some cosmopolitan anthropologist. Then she found PortlandNeighborhood.com and two women of like mind who had been infected with Portland in exactly the same way. Now, lucky her, Dana finds that, via the website and works like PortlandNeighborhood's Guide to the Perfect Portland Weekend, she is engaged in a dialogue with an entire city, a city she dearly loves and a city whose story she desperately wants to learn and share.
Lorri Ely founded PortlandNeighborhood.com after moving to Portland from the Midwest and falling in love with the Pacific Northwest and the city of Portland. Each Portland neighborhood seemed to have its own unique personality, so the website was designed with a neighborhood perspective in mind. Responding to website emails from Portlanders and visitors prompted the idea for a unique Portland travel book. People seemed to be thirsting for more ideas on what was the best thing to see and do in Portland. It seemed like the uniqueness of Portland deserved more than a boring travel guide with a simple list of places to go. Many of the ideas in this book are simply a result of a love affair with Portland; as Lorri explores the city she continues to discover more wonderful things to see and do, and thus many of the seeds of ideas for perfect weekends were planted.
Angela Scott is a co-founder of PortlandNeighborhood.com and shares a passion for this wonderful city. A decade long resident of Portland, and originally from Iowa, Angela escaped the endless sea of corn fields and made the 1700 mile hop to Portland seemingly on a whim. The truth is, a consulting gig and a deep desire to eat something other than meat and 'taties was well worth the risk of landing in a new city sight unseen. "After one look, I knew it: I'll never leave," she said. The truth is, after discovering Portland you couldn't have convinced her there was another place in the world she was more suited for. Exploring Portland is a passion, and many of Angela's personal favorite Portland haunts appear throughout this book.