PortlandNeighborhood's Guide to the Perfect Portland Weekend
Are you visiting Portland? Or are you a local looking for fun things to do? Then you'll love this handy weekend themed guide to Portland! First of all, to know Portland is to know that it is not a city. Portland is a culture. We may not always be on the same page, but together we're writing a really good story. Ultimately, it's a story about America, the way it used to be – before every corner block in every city offered the same three restaurants, before driving out of one town and into another became an indistinguishable experience, before the illusion of choice became mistaken for freedom.

But this book isn't a political manifesto. It's a celebration. It's an exaltation about the way in which Portlanders have banded together to rejoice in difference. In the process we couldn't help but set ourselves apart. This book shares how the unique and special are manifested within Portland's distinct and inimitable neighborhoods, their businesses, and their people.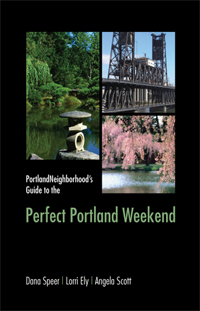 Rather than simply list and review establishments, however, we thought you might find yourself better able to navigate the plethora of options available in our fine burg of over four-score individually styled neighborhoods if we devised a pattern of approach. In other words, we've attempted to make Portland more mentally accessible, possible to wrap your mind around, by conceiving every chapter as representing a different hypothetical weekend, each with its own theme.

You can follow one of our themed weekends from A-Z...or you can choose to sit back, laugh yourself silly and have a great time mixing and matching ideas from chapter to chapter, creating your own perfectly tailored, exceptionally unique Portland weekend. Even if you never leave the couch, you'll have a great time!

Put that yawn away and get set to have a blast with our weekend guide to Portland, Oregon. But be ready – this is not your grandma's travel guide. This just isn't that book. No endless listings that blur in abstraction here. Instead, the pages read like a friend having taken you by the arm, inviting and guiding you into and through the Portland that makes Portland tick and that Portlanders themselves call home.

We've read every single guide book to Portland and have found nothing that comes even close to what we have been able to capture in this tell-all guide to your perfect Portland weekend. We've left no stone unturned in our research and promise even a long-term Portlander will discover something new and fascinating about our fabulous city.


Buy the Paperback for $14.95