Portland Blog: This Week in Portland February 26 - March 5 2011
Happy Weekend! If you've just found us, you might wonder what this blog is all about. Well, here's the skinny...We are a totally local Portland grassroots blog operation and have been online since August of 2005. Our weekly blog is read by over 250K people from Portland and all over the world. We are always humbled to watch our readership grow.
Our focus is Real Portland. Every weekend, the blog highlights ten of our favorite Portland Oregon events from the
events calendar
. Our members can submit their events for free and we keep it loaded with fresh events weekly.
In every new blog edition, a member submitted photo is chosen as the

Portland Photo of the Week

and the winner receives a $20 gift card or virtual credit to a local Portland business. We choose to promote only those Portland businesses that are 100% local and independently owned. Its our way of giving back and spreading the love.

Every edition also features a new Portland neighborhood overview, kind of a tour of that neighborhood as well as a neighborhood real estate report provided by a local Realtor, Ross Seligman. Ross is a really unique kind of Realtor which is why we really like him. We first met Ross many years ago when we used a song from his band on one of our neighborhood videos. He called to thank us and an easy friendship was formed.
We hope you enjoy the blog and we'd love your feedback. Read the
current and back issues
of the
Portland Oregon Blog
.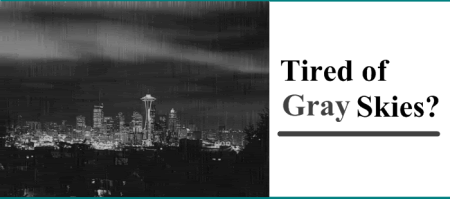 This Week's Top Ten in Portland
1. Snow in Portland - Snow in Portland is a little like seeing a unicorn in your backyard. Well, not exactly but it kind of feels that way. At any rate, snow in PDX is bound to throw the whole city for a loop and shut down a few schools even though its really just a dusting.
A cold but beautiful Wednesday morning
2. Trebol - Trebol is a fantastic mostly organic Mexican restaurant with a killer tequila selection, rumored to be the most expansive in Portland. I haven't found a dish at Trebol that I don't simply adore and the sopapillas are legit and incredible. Too lazy to leave the house? Call Delivered Dish. Do it.
3. BARISTA - BARISTA has just celebrated their two year anniversary and we're throwing up a few balloons in their honor! Founded by Billy Wilson, the two cafes on Alberta and in the Pearl employ the first ever coffee bar "tap room" approach which means they rotate coffee from different coffee roasters to help consumers taste new and different coffees. BARISTA is a huge success and known by many as one of the best coffee experiences in the city.
4. Carrie Brownstein of the now infamous Portlandia (IFC) and her recent interview with People Magazine hits our Top 10. We've not seen the issue yet but its reported that she professes her love for the Coava Coffee Roasters at The Red E over in North Portland.
5. Blue Heron Paper Company - We were incredibly saddened to read the story of the upcoming closure of one of the oldest businesses in close-by Oregon City. Please take a moment to read the story and consider how we can help not just those affected by this closure but help our other local businesses stay competitive.
6. Pets on Broadway - Fish, birds, dogs, cats, assorted reptiles and rodents strike your fancy? Well, Pets on Broadway is the real live Mothership of Pet Goods and is 100% local Portland.
7. The Weather - Holy crap, its cold. I thought I was just being a big baby and whining about the cold until I read we set a new record for the low temp of 18 degrees last night.
8. The Portland Saturday Market - Mark your calendars for the spring re-opening of the Portland Saturday Market on March 5th and 6th. This opening weekend will be marked by a huge celebration- foods from all over the world, music and entertainment, great kids activities and much more. Learn more about the Portland Saturday Market.
A day at the market by Solange Ledee
9. Courting the Food Carts - As spring beckons, I become a cart monger and love it. Is there anything better than hitting the town by bike and finding new and diverse foods on nearly every corner? Didn't think so. Check out this video of our Mayor pimpin' out our awesome cart scene.
10. Spring - It might not feel like it, but its almost heeeeere. Spring officially begins in less than one measly month. Yes! Just in case you have not yet found this amazing GEM, head over to Marbott's Greenhouse & Nursery and be simply delighted. Marbott's is one of the oldest and most impressive family-owned nurseries in Portland.
Are you sensing a trend here, Portland? If not, let us shout it from the rooftops: SHOP LOCAL! Support your local businesses!
The Portland Photo of the Week
The Portland Photo of the Week winner this week is Portland Japanese Garden by Michael Barton.
Michael, his wife and young son are outdoor enthusiasts and love exploring Portland. You can follow their travels and enjoy Michael's photography on his blog http://exploreportlandnature.wordpress.com
Our Portland Photo of the Week winner gets a gift certificate to a local Portland business of our choosing. Michael will receive a $20 gift certificate to local Portland darling, Coava Coffee Roasters.
About Coava Coffee Roasters: Portland Monthly calls Coava "the best coffee in Portland - period"! Coava was also named one of the top ten micro-roasters in America by Imbibe Magazine in the March 2010 issue. They recently stormed the NW Regional Barista Competition and took 1st place for best Barista and the Brewers Cup award. Learn more about Coava Coffee Roasters.
Come and upload your Portland photos to the Photo Gallery for your chance to win each week. Check back to see if your photo is selected for a spotlight in the weekly Portland blog!
Featured Portland Events this Week
Here are the featured Portland events this week focusing on events happening this very weekend! Thanks to everyone for adding all the great Portland events to the community events calendar. You can add your own Portland events directly to the events calendar here. Just click "Add an Event" and fill in the details.
February 11, 2011 to February 26, 2011 –http://festivals.nwfilm.org/piff34/ Welcome to the Northwest Film Center's 34th Portland International Film Festival. This year's PIFF features much that is new and much that is familiar—a felicitous mix that we hope will make for 17 d…
February 7, 2011 at 7pm to February 28, 2011 at 11pm – "Doug Fir" Join us for the Tandem Hearts movie Release Series this February! EVERY MONDAY IN FEBRUARY! $6 at the door
February 9, 2011 to April 15, 2011 – Umpqua Bank Residents of the Hawthorne district are encouraged to submit a neighborhood project that they would like to see implemented in their community. Umpqua Bank will finance the winning project up to $10,…
February 10, 2011 to May 22, 2011 – Portland Art Museum This celebration of arts patronage in Portland will present more than 100 works of art selected by the Museum's curators from the city's private collections. Includes works by Durer, Lautrec, Picasso…
February 25, 2011 at 6pm to February 26, 2011 at 4pm – Lompoc Fifth Quadrant Lompoc Brewing kicks off its 5th annual Chowder Challenge with a Shrimp Boil, which takes place on Friday, Feb 25 from 6 to 9 pm at Lompoc Fifth Quadrant, 3901 N Williams Ave. Seafood lovers are in…
February 26, 2011 from 11am to 4pm – McMenamins Hillsdale Brewery & Public House , 1505 SW Sunset Blvd., Hillsdale OR 20 McMenamins brewers compete in the 18th Annual Battle of the Belt at Hillsdale Brewery and Pub. The day-long event features twenty original brews such as Au Pear Porter, Whatawit, The Elvis Conspir…
February 27, 2011 from 2pm to 3:30pm – Oregon Historical Society Based on the book of the same title, co-authors Avel Louise Gordly and Patricia A. Schechter will recount the personal and professional journey of Senator Gordly herself. In the book, Gordly shares…
February 28, 2011 from 7pm to 9pm – McMenamins Kennedy School At its peak in the mid-1990s, Burley Design Cooperative supported 100 member owners and generated close to $10 million in annual sales. Join sociologist Joel Schoening, a Burley scholar who wrote ext…
March 1, 2011 from 6:30pm to 8pm – Urban Farm Store Losing crops to pest damage can be incredibly discouraging for beginning and veteran gardeners alike. In this class, you will learn about the most common garden pests, and best practices for removing…
January 8, 2011 to April 17, 2011 – Portland Art Museum Featuringsome 60 prints, drawings, and photographs exploring the ways in whichisolation, community, and the search for identity affected African Americansduring the 20th century. www.portlandartmuseu…
Looking for something else? We have a ton of other local Portland events -- check 'em out and feel free to add your own!
Hanging out at the White Eagle Saloon with Lorri
Neighborhood Tour: Hawthorne
Hawthorne: As Funky as They Come
Undoubtedly, Hawthorne is one of the most unique and most popular areas in Southeast Portland. The area is known for its wonderful restored Old Portland homes, liberal residents, and fun and funky feel. The street is lined with one-of-a-kind restaurants and shops, and has a definite Portland-local flair.
There are a lot of words you could use to describe the locals who live in the Hawthorne District; activist, environmentalist, educated, opinionated, hippie, hipster, Gen X-er, entrepreneur...and more. However you choose to describe it, though, this neighborhood is fun, friendly, and totally worth a visit.
Read more about Hawthorne to learn all about this neighborhood and to discover who lives here, what local life is like and what local businesses make up this neighborhood.
Want to research or find other neighborhoods? We have nearly 100 neighborhood profiles detailing the urban Portland neighborhoods.
Just moved to Portland or planning the move here? Learn about moving to Portland.
The Boise-Eliot "Mississippi Avenue" Real Estate Report
by Ross Seligman
The Boise neighborhood is sometimes referred to as "Boise-Eliot" is located on the east side of the Willamette River. It is bordered by the Overlook, Humboldt, King and Eliot neighborhoods in the increasingly hip and popular North Portland. Boise is in a great location for commuting to downtown Portland and is conveniently close to other major Portland neighborhoods such as Concordia (Alberta Arts) and Irvington.
Major freeway ramps located nearby include I-5 and I-84. Drive over the Fremont, Steel or Broadway bridges to get downtown or to the Pearl District, and Old Town/Chinatown in mere minutes. The "MAX" light rail located on Interstate is only minutes away on foot. Downtown by bicycle is about 25 minutes. To learn more, click
here
.
Are you keeping an eye on Boise Eliot or is it your neighborhood? Check out
this link
for a monthly updating real estate chart for this neighborhood.
In my monthly Portland real estate report, I always talk about how each individual neighborhood is a micro-market. If you are looking to buy or sell in a particular neighborhood, the most crucial information that you need to know is what is going on in that neighborhood. In this situation, the overall Portland market report is less important and the national real estate report is just about useless. This posting is a real estate report for the Boise Eliot neighborhood of all homes in all price ranges. Feel free to request particular neighborhoods in which you are interested in buying or selling and I am be happy to do a report, just contact me on this forum or at
http://www.propertiesofportland.com
.
If you are looking for homes in the Boise Eliot neighborhood, visit this link where you can search for homes by particular neighborhood:
Click Here
The first thing you will notice about individual neighborhoods as compared to the overall Portland reports are that the numbers can be wildly different month to month. Basically, the bigger the pool of data you are working with, the smoother the stats become. As we focus on smaller areas, many different things can happen month to month.


On to the report:

Here is the overall chart of inventory, sold, and pending for the Boise Eliot neighborhood from 10109 to 01/11:
In January 2011, there was 1 closed sale, 3 pending sales, and 7 homes on the market in the Boise Eliot Neighborhood.

One year change from January 2010 to January 2011:

Inventory (how many homes on the market for sale): Down 46.2%
Homes sold: No change.
Homes pending sale: Up 200%
Chart for average price per square footage:
In the past 15 months, the average price per square footage in the Boise Eliot neighborhood has been between $87 and $187/sq. ft. In January 2011, the average price per square foot in the Boise Eliot neighborhood was $102.
One year change from January 2010 to January 2011:

Change in Price Per Square Foot:
January 2010: 167
January 2011: 102
Percentage Change: Down 38.9%

Days on Market, Sold/List Price:
This chart is showing us two things. First, how many days on the market that a home is spending, on average, before being sold. In January 2011, the average time on market for a home in the Boise Eliot neighborhood was 137 days.

The second thing that this chart is showing you is what percentage of the listing price the owners actually are getting when the house is sold. This is a great indication of the pressure on prices. In January 2011, sellers in Boise Eliot received, on average, 87% of their original listing price.

More stats for you:

Change from January 2010 to January 2011:

Time on Market: Up 291.4%
Sold/List price% difference: Down 13%


Average price for sale vs. average price of sold:
This chart shows us what the average listing was and what the average sale was. In January 2011, the average price of a house on the market in Boise Eliot was $345,000. The average sale was $368,000.

More stats over one year:

Average active price: Down 11.3%
Average sold price: Down 4.4%

Months of Inventory:
Months of inventory gives a time line of how long it would take for all of the current listings to sell. Anything above 4 months is considered a buyers market. This figure is a good indicator of supply and demand. January 2011 in the Boise Eliot neighborhood was a buyer's market with 7 months of inventory.
By the way, This does NOT mean that it will take 7 months for your home to sell. That figure was, on average in January, 137 days. Inventory is a figure that means that, if not another home were to come on the market in Boise Eliot from this point forward, in 7 months there would not be another home to sell. They would all be sold.

View the original article by Portland Realtor and Ecobroker, Ross Seligman.
Photo Mention: Spring in February - by Julie Lynn Kelly.
Best Real Estate Deals in Portland
Every week, Ross shares with us a selection of the best real estate deals in Portland. Check out the full list of best deals.
3237 NE SCHUYLER ST Portland, OR 97212 - Grant Park - $599,000
See the listing here:
http://www.propertiesofportland.com/11511036
47 SE 53rd AVE Portland, OR 97215 - Mt. Tabor - $379,900
See the listing here:
http://www.propertiesofportland.com/11380355
Did you know there are nearly 100 unique Portland neighborhoods? Learn more about these interesting Portland neighborhoods.
Powell's Bookstore Picks
We love Powells!
Portland Book Review of the Day
That's it for now
We hope you enjoy reading our weekly Portland blog. Want to see more or less of something? Let us know! Once again, thanks for being here and making this Portland website such an asset to the community! If you love this site as much as we do, tell your friends! Have a great weekend! PS -- Want to read back issues of this blog? Here ya go!
New to the site and want to add your own two cents to the Portland blog? Please do! But please remember to keep it real and community focused. Read our terms of use and don't spam the planet with self promoting material or weird stuff as it will just get deleted. We have a zero spammer policy to keep the site valuable and hassle free for our members. Thanks!
Connect with Portland
Check out our online community
---
Thanks for reading this Portland blog. Check out these other helpful pages about Portland:
Portland Neighborhood Boundary Map
Portland sites we love:
---