Portland Blog: This Week in Portland April 9 - April 16th 2011
Happy weekend, Portland and welcome to another edition of our Portland blog. Coming off the heels of what is said to be a record breaking month of rainfall in March, April appears to be like a little lamb, bringing some (which is better than none) sun and warmer temps. Thank the heavens for that because even the most hardcore Portland lovers are threatening to move if they don't have some extended time with the great orb in the sky and heat -- now. I'll admit this winter and spring has been a bit of a doozy for me, too. Bring on the sun!
This summer, my plan is to hike a new spot every weekend and experience all --yes, every single one-- of the local Portland parks. I realized lately that I tend to go to my favorite spots and stay close to home a lot. What am I missing out on? In a state as beautiful as Oregon --and with Washington next door-- I can only imagine. I'd love to open a hiking book and start at the first hike and move all the way through the book, hike by hike- taking notes along the way. I fell in love with the below video on 7th generation Oregon and avid hiker, Teddy, and bet you will, too.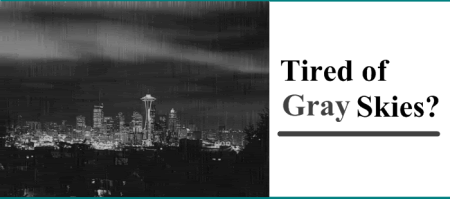 This Week's Top Ten in Portland
1. Sixty degrees and sunny in Portland on Friday. 'Nuff said. (Sun. Woot!!)
Photo credit: Brittania
2. Hanna - Some cool private company littered PDX with free tickets to a private, pre-release showing of the movie Hanna. I enjoyed it and so did the rest of our party. Fun, action packed thriller. Enjoy it at a beer theater near you when its available! This reminds me, starting in late April, the Cirque du Soleil crew will start working downtown close to the waterfront. They hang out in the lower downtown area by the waterfront giving out free tickets at random establishments. This makes the end of April a great time to hang out by the river, huh?
3. Organics to You "Organics to You Works with Local Farmers directly and with other local purveyors of organic produce, that deliver the produce to our warehouse in central S.E. Portland, then from there, to you to enjoy! There are lots of different sizes of produce boxes to choose from along with some grocery needs you may have. All you need to do is sign up and the best, freshest, local, organic produce will come to your door!" http://organicstoyou.org/
4. The Chinese Garden - A stunning park unlike any other in the city. You'll wander around in awe at the beauty and the amazing detail and will find yourself startle at the sight of the neighboring corporate structures having forgotten the city entirely. Get lost here. #urbanoasisinthecity http://www.portlandchinesegarden.org/
5. ZoomCare -- The most accessible, affordable healthcare I know of here in Portland. Make a same-day appointment online and enjoy the comforts of a fixed price. Retail healthcare at its finest and soon to be opening a new location on Mississippi Avenue. http://www.zoomcare.com/
6. Your bike Hopping on your bike to commute to work --or anywhere else for that matter-- is the perfect mode of transport. Especially in bike friendly Portland. #doit
Photo credit: Mark McClure
7. The Japanese Garden - The most spectacular garden in all of Portland and the best views of the city and Mt Hood. http://japanesegarden.com/
Photo credit: Tamra Tiemeyer
8. E'Njoni Cafe - The best Ethiopian food in Portland- hands down. Healthy, mostly organic food and unbelievably delicious. http://www.enjonicafe.com/
9. Pok Pok - The 2007 Restaurant of the Year opens their second location, Pok Pok Noi, in the end of March and already its a hit. No big surprise there as the food is to die for. Here's the story of how they started:
10. And this...video is...awesome!
The Portland Photo of the Week
The Portland Photo of the Week winner this week is Portland Japanese Garden by Tamra Tiemeyer.
Our Portland Photo of the Week winner gets a gift certificate to a local Portland business of our choosing. Tamra will receive a $20 gift certificate to local Portland darling, Coava Coffee Roasters.
About Coava Coffee Roasters: Portland Monthly calls Coava "the best coffee in Portland - period"! Coava was also named one of the top ten micro-roasters in America by Imbibe Magazine in the March 2010 issue. They recently stormed the NW Regional Barista Competition and took 1st place for best Barista and the Brewers Cup award. Learn more about Coava Coffee Roasters.
Come and upload your Portland photos to the Photo Gallery for your chance to win each week. Check back to see if your photo is selected for a spotlight in the weekly Portland blog!
Featured Portland Events this Week
Here are the featured Portland events this week focusing on events happening this very weekend! Thanks to everyone for adding all the great Portland events to the community events calendar. You can add your own Portland events directly to the events calendar here. Just click "Add an Event" and fill in the details.
March 1, 2011 to May 1, 2011 – Portland Art MuseumJapanese folk textiles present a wonderful diversity of regional traditions. This presentation includes rare items such as a banana-fiber kimono, a sashiko embroidered jacket, and futon covers adorne…Organized by Portland Art Museum | Type: exhibit
March 19, 2011 to April 10, 2011 – Various - depending on dateSeason 5 of Portland Teen Idol - now under new management - begins auditions Saturday, March 19, 2011. To audition, you must pre-register online at PortlandTeenIdol.com. Registration closes on Marc…Organized by Dark Wing Productions - Supported by everyone else | Type: singing, competition, audition
March 19, 2011 at 10am to March 10, 2012 at 2pm –The Brooklyn BayPlay after Play's final presentation of their seventh season is a sweet and humorous story about a small dissatisfied rat. When the rat's wishes come true, he learns to appreciate his simple life ju…Organized by Marc Otto | Type: theater, and, play, for,young, children, their, families.
April 2, 2011 at 12pm to April 30, 2011 at 2pm –Portland SpiritQueen Melissa, Queen of Maybeland, from the beloved radio show and children's book, The Cinnamon Bear, is setting off on and adventure of her own. Captain Taffy is bringing her to Portland for a hig…Organized by Portland Spirit | Type: river, cruise
April 3, 2011 at 7pm to April 17, 2011 at 10pm –Whitsell AuditoriumThe Northwest Film Center and the Institute for Judaic Studies are proud to present the 19th Annual Portland Jewish Film Festival. In its run from April 3 – 17, 2011, the Festival celebrates the div…Organized by Northwest Film Center | Type: film, festival
April 7, 2011 at 5pm to April 30, 2011 at 10pm – The Original: 300 SW 6th Ave. (@ Oak) - Downtown PDX...Please join us Downtown on First Thursday for the opening reception of our April show - a beautiful Mid Century Modern-inspired solo show: "CEREAL: a View of Break*Fast", an exhibition of fine, fo…Organized by Joe Staskerz | Type: art, show, opening,reception
April 8, 2011 at 12pm to May 1, 2011 at 7pm –Portland Japanese GardenArt in the Garden Spring 2011: Come Back Koi! The second exhibition in the Living in Harmony with Nature series for 2011 celebrates koi as a vital part of the Garden's ecology. It is the colorful k…Organized by Melissa Wilmot | Type: art, exhibition
April 8, 2011 at 6pm to April 9, 2011 at 2pm – Grand Caffe/ Andrea's Cha ChaIn celebration of World Health Day we are hosting an exciting night of salsa dancing, karaoke, raffles and light fare. Join us at The Grand on SE Belmont and Grand on Friday April 8th, from 6pm until…Organized by Mejor Communities | Type: fundraiser,salsa, party
April 10, 2011 from 12pm to 3pm – Member's home, please RSVP for addressCalling all urban growers, eaters and food organizations! The Food in the City project of the Oregon Sustainable Agriculture Land Trust (OSALT) would like to invite you to our Spring Networking Party…Organized by Food in the City | Type: networking, potluck
Looking for something else? We have a ton of other local Portland events -- check 'em out and feel free to add your own!
Photo credit: Michael Barton
A Tour of the Belmont neighborhood
Homes for sale in Portland
1901 NW NORTHRUP ST Portland, OR 97209 - Northwest District - $499,000
See the listing here: http://www.propertiesofportland.com/11129233
3412 NE 48TH AVE Portland, OR 97213 - Rose City Park - $325,000
See the listing here: http://www.propertiesofportland.com/11274903
Did you know there are nearly 100 unique Portland neighborhoods? Learn more about these interesting Portland neighborhoods.
Pearl District Neighborhood Real Estate Report
by Ross Seligman
Are you keeping an eye on the Pearl District or is it your neighborhood? Check out this link for a monthly updating real estate chart for this neighborhood.
In my monthly Portland real estate report, I always talk about how each individual neighborhood is a micro-market. If you are looking to buy or sell in a particular neighborhood, the most crucial information that you need to know is what is going on in that neighborhood. In this situation, the overall Portland market report is less important and the national real estate report is just about useless. This posting is a real estate report for the Pearl District neighborhood of all homes in all price ranges. Feel free to request particular neighborhoods in which you are interested in buying or selling and I am be happy to do a report, just contact me on this forum or at http://www.propertiesofportland.com.

If you are looking for homes in the Pearl District neighborhood, visit this link where you can search for homes by particular neighborhood: Click Here

The first thing you will notice about individual neighborhoods as compared to the overall Portland reports are that the numbers can be wildly different month to month. Basically, the bigger the pool of data you are working with, the smoother the stats become. As we focus on smaller areas, many different things can happen month to month.

On to the report:

Here is the overall chart of inventory, sold, and pending for the Pearl District neighborhood from 12/09 to 02/11:
In February 2011, there were 20 closed sales, 28 pending sales, and 235 homes on the market in the Pearl District Neighborhood.

One year change from February 2010 to February 2011:

Inventory (how many homes on the market for sale): Down 19.5%
Homes sold: Up 25%
Homes pending sale: Up 47.4%
Chart for average price per square footage:

In the past 15 months, the average price per square footage in the Pearl District neighborhood has been between $280 and $438/sq. ft. In February 2011, the average price per square foot in the Pearl District neighborhood was $298.
One year change from February 2010 to February 2011:

Change in Price Per Square Foot:
February 2010: 353
February 2011: 298
Percentage Change: Down 15.5%

Days on Market, Sold/List Price:
This chart is showing us two things. First, how many days on the market that a home is spending, on average, before being sold. In February 2011, the average time on market for a home in the Pearl District neighborhood was 89 days.

The second thing that this chart is showing you is what percentage of the listing price the owners actually are getting when the house is sold. This is a great indication of the pressure on prices. In February 2011, sellers in Pearl District received, on average, 95% of their original listing price.

More stats for you:

Change from February 2010 to February 2011:

Time on Market: Down 23.9%
Sold/List price% difference: Up 1%

Average price for sale vs. average price of sold:

This chart shows us what the average listing was and what the average sale was. In February 2011, the average price of a house on the market in Pearl District was $435,000. The average sale was $327,000.

More stats over one year:

Average active price: Down 7.6%
Average sold price: Down 16.4%

Months of Inventory:

Months of inventory gives a time line of how long it would take for all of the current listings to sell. Anything above 4 months is considered a buyers market. This figure is a good indicator of supply and demand. February 2011 in the Pearl District neighborhood was a buyer's market with 11.8 months of inventory.

By the way, this does NOT mean that it will take 11.8 months for your home to sell. That figure was, on average in February, 89 days. Inventory is a figure that means that, if not another home were to come on the market in Pearl District from this point forward, in 11.8 months there would not be another home to sell. They would all be sold.

Visit my website where you can contact me and search all Portland Metro Area listings from the RMLS: http://www.propertiesofportland.com
That's It!
We hope you enjoy reading our weekly Portland blog. Want to see more or less of something? Let us know! Once again, thanks for being here and making this Portland website such an asset to the community! If you love this site as much as we do, tell your friends! Have a great weekend! PS -- Want to read back issues of this blog? Here ya go!
New to the site and want to add your own two cents to the Portland blog? Please do! But please remember to keep it real and community focused. Read our terms of use and don't spam the planet with self promoting material or weird stuff as it will just get deleted. We have a zero spammer policy to keep the site valuable and hassle free for our members. Thanks!
Connect with Portland
Check out our online community
---
Thanks for reading this Portland blog. Check out these other helpful pages about Portland:
Portland Neighborhood Boundary Map
Portland sites we love:
---