Portland Blog: This Week in Portland, May 7 - May 14, 2011
Hey Portlanders. Happy Cinco de Mayo Fiesta weekend, and Happy Mother's Day weekend, too! Still looking for ideas of things to do for Mother's Day in Portland? We've got a few for you. You could go to Mother's Day at the Portland Japanese Garden. Or, the Oregon Zoo Mother's Day Brunch. All you last-minute planners will be happy to know there are plenty of places to take mom for Portland Mother's Day Brunch, dinner, and celebrations. You can even make your reservations on-line right now using OpenTable.com. Here are just a handful of popular restaurants to take mom on Mother's Day in Portland:
Besaw's
Gravy
The Tin Shed
Cricket Cafe
The London Grill at the Benson
Screen Door
Simpatica
Tasty N Sons
Genie's
Andina
Bistro 921 at the Hilton
Chart House
The Daily Grill
Genoa
The Heathman Restaurant
Huber's
Jake's Famous Crawfish and Seafood
Mother's Bistro
If you want to get your mom a Portland Mother's Day massage gift certificate or massage package, check out Holistic Portland Massage. There are few gifts nicer than the gift of relaxation! You can even purchase massage gift certificates on-line to make it super easy. Just visit the website http://www.holisticportlandmassage.com for easy on-line booking.
If a foot massage sounds nice, I recommend Foot Body Bar in the Pearl District. http://footbarbodybar.com/ They offer a whole menu of luxurious foot massage treatments. Blissful!
For a full service spa, try Dragontree Spa: http://www.thedragontree.com/. They offer a nice menu of spa packages to choose from.
If you're still hoping for Portland flower delivery, visit our Portland Florists - Portland Flower Delivery page to find a list of florists to send Mother's Day flowers in Portland.
Spring Flowers - Downtown Portland
---
Portland Bakery - Portland Patisserie - Portland Cupcakes - Portland Chocolate
If you'd like to get your mom something sweet, there is a nice long list of places to get Portland cupcakes, pastries, cookies, cakes, croissants, and other baked goodies in town!
Back to Eden Bakery
http://www.backtoedenbakery.com/new/
Bliss
Cupcake Jones
Saint Cupcake
Sweetpea Baking Company
Jaciva's
New Cascadia Traditional
www.newcascadiatraditional.com
Little T American Baker
Baker & Spice
Pearl Bakery
Ken's Artisan Bakery
St. Honore
http://www.sainthonorebakery.com/
Nuvrei Pastries
Pix Patisserie
Petite Provence
http://www.provence-portland.com/
Helen Bernhard Bakery
http://www.helenbernhardbakery.com/
Moonstruck Chocolate
http://www.moonstruckchocolate.com/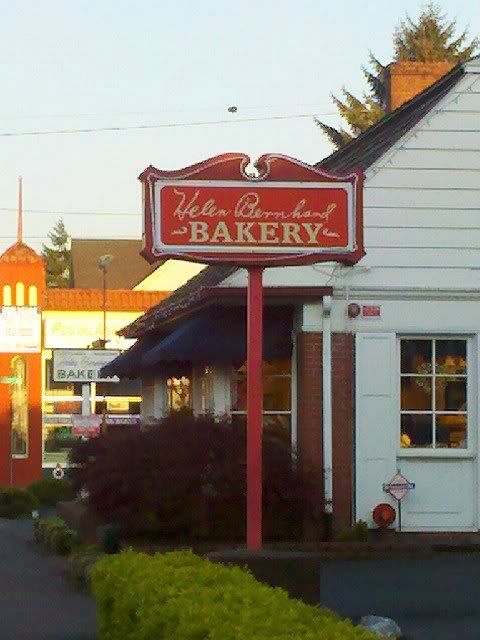 Helen Bernhard Bakery, Sullivan's Gulch Neighborhood
If your Mom likes Portland Breweries and we get lucky enough to have some sunshine for Mother's Day, definitely hit a favorite Portland brewpub or bottle shop! Migration, Coalition, Hopworks Urban Brewery, Amnesia, Lucky Lab, Lompoc, Apex, Saraveza...I could go on and on...they are all great!
Jonathan enjoying a rare sunny May Portland afternoon at Migration (wearing an Apex T-Shirt)
My mom doesn't live in Portland so I am usually stuck with the flower delivery route. This year, I decided to get my mom something a bit unusual for a Mother's Day present: a goat and two chickens. What? Well, I know my Mom always says she doesn't want or need anything for herself as a gift, so I figured this year I would donate to a charity in her name. World Vision is a highly ranked charity that donates to help children and families throughout the world. By donating a goat and two chickens, as I read on their website,
Goats nourish hungry children and families with healthy milk, cheese, and yogurt. Chickens provide fresh eggs that are rich in protein and nutrients, and extra eggs and chicks can be sold to pay for basics.

A dairy goat can give up to 16 cups of milk a day. Goat milk is easier to digest than cow's milk and is an excellent source of calcium, protein, and other essential nutrients that growing children need. Goats are practical animals — flourishing in harsh climates while producing valuable manure to fertilize crops and vegetable gardens.

Chickens are equally easy to raise, and will naturally multiply to impact generations of children. Each family that receives chickens is asked to give back hatched chicks to help another family in need. Chicks require little money, space, or food to thrive and grow — making them an ideal business venture for a single mom or vulnerable family.
I don't know, but I thought a goat and two chickens was a cool Mother's Day gift idea, and my Mom was delighted when she got the email explaining the donation in her honor. If you'd like to donate to World Vision in honor of your mom, visit their website to learn more: http://donate.worldvision.org/OA_HTML/xxwv2ibeCCtpSctDspRte.jsp?section=10390
---
Weekly Featured Portland Events
Each week we feature a handpicked list of Portland events that have been shared on the events calendar. If you have a Portland event you would like to share, just go to the Portland Events Calendar, and click the +Add button. Thanks for sharing what is going on in and around Portland!
April 1, 2011 to May 8, 2011 – Smash Putt Fairways - PDX
Smash Putt, The Miniature Golf Apocalypse, returns to Portland for six weekends of mayhem and excitement! Devious obstacles kissed with wicked robotic brains hand crafted by our mad scientists to cha…
Organized by Smash Putt! | Type: nightlife
May 6, 2011 at 6pm to May 28, 2011 at 4:30pm – Architectural Heritage Center
The paintings of local artist Betty Chilstrom will be shown this May, with an opening during First Friday in Portland's Central Eastside Arts District. The collection includes numerous Portland house…
Organized by Architectural Heritage Center | Type: art, show/fundraiser
May 6, 2011 from 7:30pm to 10pm – bossanova ballroom
the vitaminwater design challenge is kicking off the portland mercury's 7th annual spring fashion show "open season" with a vitaminwater-inspired fashion show. hand selected open season designers a…
Organized by fullpic | Type: fashion, show
May 6, 2011 at 8pm to May 28, 2011 at 10pm – Miracle Theatre Group
Sold to a blind beggar as a child and then passed from one master to another — each more cruel and incompetent than the previous — young Lazarillo must pilfer and deceive to survive, and is usually p…
Organized by Miracle Theatre Group | Type: theatre, performance
May 7, 2011 from 1pm to 3pm – Portland Japanese Garden
Kodomo no Hi, Children's Day May 7, 1-3pm Free with Garden Admission Once again this year, the Portland Japanese Garden celebrates Kodomo no Hi with a variety of children's activities and performanc…
Organized by Melissa Wilmot | Type: festival
May 7, 2011 from 8pm to 10:30pm – Hipbone Studio - home to Portland Story Theater
Portland Story Theater returns for a third year of solo festival goodness with Singlehandedly! SATURDAY May 7: Sharon 'Shay' Knorr, "The Letter 'H'" auGi, telling "What Happens When Napoleon Dynam…
Organized by Portland Story Theater | Type: performance, festival, storytelling
May 8, 2011 from 10am to 3pm – Portland Japanese Garden
Mother's Day May 8, 10 a.m.–3 p.m. Included with Garden admission Spend Mother's Day in the Garden and enjoy this spring day with friends and family. Garden guides will be on hand throughout the Gar…
Organized by Melissa Wilmot | Type: event, garden
May 8, 2011 from 2pm to 3pm – The Warehouse Cafe
"Star of Kindie Rock" – Time Magazine "The show is a cross between 'Yellow Submarine' and Dr. Seuss." - The New York Times Groovy Gustafer Yellowgold is a small, yellow, cone-headed fellow, who…
Organized by Brian Pearl | Type: music, &, animation, show, for, kids, families
May 9, 2011 from 6:30pm to 8pm – Concordia University
Concordia University is proud to have one of the few CSWE accredited Social Work programs in the state. Once you earn your Bachelor's Degree in Social Work from Concordia University, you will have…
Organized by Concordia University | Type: community, event
May 9, 2011 from 7pm to 9pm – Unity of Portland
Music to feed the human spirit. Karl brings his unique & powerful musical experience to Portland, Oregon. Mantra is Brilliant Laser Lights with Karl Anthony's Vibrant Acoustic Kirtan Music Sans…
Organized by Unity of Portland | Type: music
May 12, 2011 from 6pm to 8pm – Our United Villages
Community Outreach is hosting an ongoing workshop series, Tools for Community Building, on the second Thursday of each month from 6:00 PM – 8:00 PM. Join us on Thursday, May 12 for a workshop that w…
Organized by Community Outreach | Type: workshop
May 12, 2011 from 7pm to 10pm – Coho Theater
A love story about the impossibility of love, Reasons to Be Pretty introduces us to Greg, who really truly adores his girlfriend, Steph. Unfortunately, he also thinks she has a few physical imperfect…
Organized by Alison Wallisch | Type: fundraiser
---
This Week's Top Ten in Portland

What's the Portland top ten list? Just some cool places, activities, shops, businesses, restaurants, people, and other things we want to share about Portland each week. if you have something you'd like to see added to the weekly top ten, drop us a line.

1) 27th Annual Cinco De Mayo Fiesta - Tom McCall Waterfront Park - through this weekend

From website: http://cincodemayo.org/

From May 5 to May 8, 2011, Portland Guadalajara Sister City Association (PGSCA) will present the twenty-seventh annual Cinco de Mayo Fiesta. PGSCA was established in 1984, and is a 501 (C-3) non-profit organization dedicated to promoting Latino culture, arts, education, economic and intercultural partnerships, and goodwill between the cities of Portland and Guadalajara.

For more information on the Portland Guadalajara sister city Association go to: www.PGSCA.com
¡Bienvenidos a La Fiesta Anual de Cinco de Mayo!
Desde el 5 de mayo hasta el 8 de mayo, la Asociación de Ciudades Hermanas Portland Guadalajara (PGSCA) realizará la vigésima sexta celebración anual de Cinco De Mayo. PGSCA se estableció en 1984, y como una organización sin fines de lucro 503 (c-3) nos dedicamos a promover la cultura y el arte latino a traves de colaboraciones educativas e interculturales entre las ciudades de Guadalajara y Portland.

2) McMenamin's New Crystal Hotel

Now Open!
303 S.W. 12th Ave.
Portland, OR 97205
Local: (503) 972-2670
Elsewhere: (855) 205-3930


From website www.crystalhotel@mcmenamins.com

Located just across the street from the legendary Crystal Ballroom, the Crystal Hotel has 51 comfortable guestrooms, each inspired by a song or performance from the Crystal Ballroom's past 100 years. Colorfully painted panels and headboards anchor the rooms, while deeply-hued walls, black velvet drapery and animal print upholstery lend a rock 'n' roll vibe. Large windows afford views of the city from all angles. Room rates include admission to the soaking pool and the opportunity to purchase tickets to the Crystal Ballroom show on the night of your stay.

If you've ever wondered what it takes to pull off a McMenamin's remodel and all of the artwork, check the videos below!

3) Oregon Zoo Mother's Day Brunch

From their website:http://www.oregonzoo.org/Events/brunch.htm

Join us for our annual Mother's Day brunch in the zoo's beautiful Cascade Crest Banquet Center on Sunday, May 8, 2011
9 a.m. - 1 p.m.

This bountiful brunch features:
Assorted pastries and muffins
Scrambled eggs, plain and with goodies
Made-to-order omelets
Potatoes O'Brien
Bacon and link sausage
Biscuits and gravy
French toast with maple syrup
Delicious salads
Chicken-and-mushroom ragout with wild rice

And oh, the desserts...

(Menu may vary slightly.)

Cost: $21.95
$9.95 for ages 3-11
Zoo admission is not required for the brunch
and is not included in the price.

Reservations are highly recommended:
503-525-4299

4) Hollywood Theatre - Sound and Vision Fest

From website: http://hollywoodtheatre.org/programs/soundvision/sound-vision-festival-512-514/

Bridgeport Presents Sound + Vision Fest 5/12-5/14 to benefit the nonprofit Hollywood Theatre

Featuring new work from Matt McCormick, Spike Jonze, the Portland premiere of "Who Took the Bomp: Le Tigre on Tour," and works in progress by Michel Gondry and Lance Bangs as well as performances by Eluvium, Goodnight Billygoat and the Corin Tucker Band.
May 12: Award winning filmmaker, Matt McCormick ("Some Days are Better than Others", "The
Subconscious Art of Graffiti Removal") will curate the evening. Matt is also known in music circles for his work directing videos for The Shins, Sleater- Kinney, and YACHT and will collaborate with electronic musician Eluvium on a new film project to be screened on Thursday. Goodnight Billygoat will close the evening.
May 13: Carrie Brownstein (Portlandia, Wild Flag, Sleater Kinney) will curate Friday night's festivities. Carrie's most recent project includes WILD FLAG, formed with former Sleater-Kinney drummer Janet Weiss, former Helium guitarist and singer Mary Timony, and Rebecca Cole of The Minders and of course, Portlandia. Carrie will screen "Who Took the Bomp: Le Tigre on Tour," which has as of yet only played SXSW and MoMA. A special surprise band will close out the night.
May 14: Lance Bangs will curate the evening, screening a work in progress of his own on the band the Slints, as well as "Animated Conversation with Noam Chomsky" (work in progress) directed by Michel Gondry, and "Mourir Auprès de Toi" (To Die by Your Side) directed by Spike Jonze & Simon Cahn. The Corin Tucker Band will close.
Tickets for each night are $10: BUY TICKETS
5) WWEEK'S Shut up and Vote! 2011 School Election Edition, "Your gateway drug to civic involvement"
You have to hand it to WWEEK, they do a nice job of summarizing and explaining the issues, so that "I can't vote, I don't know anything about it" falls away as your excuse not to vote. So read it and go vote. Check this article for more info on the School Election:
http://www.wweek.com/portland/article-17441-shut_up_and_vote__2011_school_election_edition.html
6) Local Focus! Portland Gardening - Cedar Planter Boxes for Raised Beds - Since it is May and I am still hoping for warmth and sunshine, I went hunting for some nice planter boxes to use as raised garden beds for my Portland garden, and found that they are quite expensive at the local garden store. But then I found Ben's listing for raised beds on backpage ads. Ben is selling very reasonably priced, high quality cedar planter boxes that he makes and delivers in and around the Portland area. They are really nice and sturdy box frames, and the cedar smells great! Make yourself some nice raised garden beds this year, or even take a couple of the bigger ones and fashion yourself some benches. I plan to fill mine with organic veggies (if the weather cooperates, we might get some decent tomatoes this year). Ben will make your boxes to specs or he has several pre-made sizes available, and he can deliver them to your Portland home for a reasonable price. I don't know if Ben will need to raise his prices as the demand increases, but here is his current price list as of today's blog post:
Example sizes and prices:

24" x 24" x 11" high - $40 each

21" x 36" x 16.5" high. -$70 each

21" x 60" x 16.5" high - $85 each

36" x 60" x 16.5" high - $105 each
I can't wait to get my Portland raised garden planters placed in my yard and filled with plants. Now all I need is some dirt.
To order your cedar raised beds or garden planters for your Portland Garden, call Ben at 503-810-7816.
7) VooDoo Doughnut Too
1501 Northeast Davis Street
Portland, OR 97232-3012
VooDoo Doughnut is Open 24 Hours, Cash Only!
So apparently the original Portland VooDoo Doughnut location in Old Town is closed for some renovation, which meant the VooDoo Doughnut Too location in NE was jam packed with people when I dropped by for a semi-annual doughnut fix. In fact, there was a line out the door, and the surly employees looked harried and visibly impatient (but some still at least attempted to smile at the throngs of goggle-eyed tourists and locals). If you are looking for one of the most tasty and fun doughnuts in Portland (or anywhere, for that matter), everyone knows VooDoo Doughnut delivers.
8) Thunder Mountain Motorcycle Rescue
With gas prices through the roof, many of us are taking alternative transportation to work. I bought a scooter at the end of last summer, and because I am a wimp, I didn't ride it through most of the cold wet winter as I probably should have. So it had a bit of trouble starting when I went to fire it up a couple weeks ago. It needed a tune up at the very least, but I couldn't keep it running long enough to even get down the street. So...since I don't have a pick up truck or any way to get the bike to the shop for repairs, I was wondering what to do. What you do, apparently, is call Thunder Mountain Motorcycle Rescue. In about half an hour after I called, a huge truck trailer that looked like it could haul about a hundred motorcycles pulled up outside my house. To his credit, Aaron didn't even smirk at me as I sheepishly wheeled my pathetic dead little scooter out and loaded it on the ramp off the back. (He did offer me a tip: if I rode all year long it wouldn't die over the winter. And he told me about some cool winter riding gear I might want to try.) I was impressed by the fair price and fast and friendly service. Aaron towed it straight to the scooter service shop for me - problem solved! Now I am zipping around Portland on my scooter and getting 80+ miles to the gallon, woo hoo! If you have a scooter or motorcycle and need a tow for any reason, Thunder Mountain Rescue is available 24 hours a day, 7 days a week. Call 971-570-3622 to have them pick up your bike.
From their website: www.thundermountaintransport.com
Thunder Mountain Motorcycle Rescue (TMMR) is a different, innovative motorcycle towing company serving the Vancouver Washington and the Portland Oregon areas. Using only an enclosed trailer, TMMR will safely transport your bike, trike or scooter.

If you need emergency motorcycle towing, transportation to a show or rally, or just a hassle-free move to the shop, TMMR can help. The enclosed trailer protects your investment from the elements and road debris in a way that conventional tow companies may not be able to do.

Thunder Mountain Motorcycle Rescue is available by cell phone 24/7, if you can not reach us via phone; try a text they sometimes go through when service is minimal. TMMR will go to Seaside, Alsea, Dufer, Bend, Seattle, Cougar, Carson, Salem, Forest Grove, St Helens, Windy Ridge, to tow your motorcycle back to the Portland OR, Vancouver WA area.
9) Vespa Portland - Service Department
Speaking of Portland scooters, if you too would like a nice fun ride that saves you a small fortune in gas over your car or truck, check out the Portland Scooters page. I took my scooter in for service at Vespa Portland located in NE Portland. I highly recommend their Portland scooter service shop, where my scooter was in and out, and running again in no time. I didn't get any "you're not cool enough for this scooter" attitude which I have heard can be a bit of a problem at other local scooter shops. I appreciated the care with which they treated me and my scooter, and would definitely check this shop out if you are in the market for a new scooter yourself. While I can't personally speak to their sales department, their service department rocks! They also offer a pickup service (see Thunder Mountain, above), in case you need your scoot towed in, too.
From their website: http://www.vespaportland.com/
With the best service department in Oregon and with factory-trained technicians to serve you, no one is better qualified to care for your scooter or motorcycle than we are. We guarantee genuine Vespa parts & accessories to keep your bike running and looking its best. As the northwest's largest scooter dealer, we offer a huge after market accessory selection.

We're proud to have the area's only master technician. A graduate of Motorcycle Mechanics Institute, this dude has extensive training and experience, and is:

Vespa certified,

Piaggio certified,

Genuine Scooters certified,

Vectrix certified,

SYM certified,

Kawasaki certified,

Yamaha certified

Motorcycle Mechanics Institute certified .
Call 503-222-3779 for Portland scooter service.
10) One Night with Janis Joplin - Portland Center Stage
Our own Portland website real estate writer (and local talented musician and performer) Ross Seligman is performing in this show. You should check it out! http://community.portlandneighborhood.com/forum/topics/one-night-with-janis-joplin
More info from http://www.pcs.org/janis/
Portland Center Stage will host the world premiere of One Night with Janis Joplin, the new musical event celebrating the life of one of rock 'n roll's greatest legends, beginning May 24, 2011. One Night explores Joplin's music, words, art and diverse influences. Playwright-director Randy Johnson's unprecedented access to the Joplin Family archives has enabled him to give audiences a profound immersion in this blues-belting trailblazer's world. Packed with dynamic performances, including several legendary songs and other material the rock icon never formally recorded, this is Janis Joplin's musical journey presented in a powerfully immediate form.

PCS has partnered with the Janis Joplin Estate and Jeff Jampol of Jampol Artist Management to present this unique theatrical experience. One Night with Janis Joplin is the brand new, all-inclusive Joplin musical. The show will run through June 26 on PCS' Main Stage in the Gerding Theater at the Armory.
---
The Portland Photo of the Week
Taylor wins again with the Portland photo of the week contest! Come upload your Portland photos to the community Portland Photo Album. As always, thanks so much for sharing, we really enjoy looking at the Portland photos each week! A-h-h, spring always brings the most lovely pink blossomed trees in Portland.
Pink Blossoms in Portland - Photo by Taylor Case
Our Portland Photo of the Week winner gets a gift certificate to a local Portland business of our choosing. Taylor will receive a $20 gift certificate to one of Portland's favorite coffee shops, Coava. Want to learn more about where to find great Portland coffee? Visit our Portland Coffee page.
Come and upload your Portland photos to the Photo Gallery for your chance to win each week. Check back to see if your photo is selected for a spotlight in the weekly Portland blog!
---
Alberta Neighborhood Real Estate Market Report
by Ross Seligman
To learn about the Vernon neighborhood click here.
Are you keeping an eye on Vernon or is it your neighborhood? Check out this link for a monthly updating real estate chart for this neighborhood.
In my monthly Portland real estate report, I always talk about how each individual neighborhood is a micro-market. If you are looking to buy or sell in a particular neighborhood, the most crucial information that you need to know is what is going on in that neighborhood. In this situation, the overall Portland market report is less important and the national real estate report is just about useless. This posting is a real estate report for the Vernon neighborhood of all homes in all price ranges. Feel free to request particular neighborhoods in which you are interested in buying or selling and I am be happy to do a report, just contact me on this forum or at http://www.propertiesofportland.com.

If you are looking for homes in the Vernon neighborhood, visit this link where you can search for homes by particular neighborhood: Click Here

The first thing you will notice about individual neighborhoods as compared to the overall Portland reports are that the numbers can be wildly different month to month. Basically, the bigger the pool of data you are working with, the smoother the stats become. As we focus on smaller areas, many different things can happen month to month.

On to the report:

Here is the overall chart of inventory, sold, and pending for the Vernon neighborhood from 01/10 to 03/11:
In March 2011, there were 26 closed sales, 30 pending sales, and 118 homes on the market in the Vernon Neighborhood.

One year change from March 2010 to March 2011:

Inventory (how many homes on the market for sale): Down 11.9%
Homes sold: Down 42.2%
Homes pending sale: Down 49.2%
Chart for average price per square footage:

In the past 15 months, the average price per square footage in the Vernon neighborhood has been between $119 and $156/sq. ft. In March 2011, the average price per square foot in the Vernon neighborhood was $127.
One year change from March 2010 to March 2011:

Change in Price Per Square Foot:
March 2010: 127
March 2011: 147
Percentage Change: Down 13.5%

Days on Market, Sold/List Price:
This chart is showing us two things. First, how many days on the market that a home is spending, on average, before being sold. In March 2011, the average time on market for a home in the Vernon neighborhood was 67 days.

The second thing that this chart is showing you is what percentage of the listing price the owners actually are getting when the house is sold. This is a great indication of the pressure on prices. In March 2011, sellers in Vernon received, on average, 93% of their original listing price.

More stats for you:

Change from March 2010 to March 2011:

Time on Market: Up 19.6%
Sold/List price% difference: Down 3%

Average price for sale vs. average price of sold:

This chart shows us what the average listing was and what the average sale was. In March 2011, the average price of a house on the market in Vernon was $296,000. The average sale was $270,000.

More stats over one year:

Average active price: Down 3%
Average sold price: Down 6.2%

Months of Inventory:

Months of inventory gives a time line of how long it would take for all of the current listings to sell. Anything above 4 months is considered a buyers market. This figure is a good indicator of supply and demand. March 2011 in the Vernon neighborhood was a balanced market leaning in the buyer's favor with 4.5 months of inventory.

By the way, this does NOT mean that it will take 4.5 months for your home to sell. That figure was, on average in March, 67 days. Inventory is a figure that means that, if not another home were to come on the market in Vernon from this point forward, in 4.5 months there would not be another home to sell. They would all be sold.

Visit my website where you can contact me and search all Portland Metro Area listings from the RMLS: http://www.propertiesofportland.com
---
Best Deals in Portland - Portland Home Deals
Each week, Ross shares a handful of homes for sale in Portland Oregon that are great deals. We usually select one on the higher end and lower end of the price range to share here in the blog. You can read the full report of best real estate deals in Portland, here.
2. 420 NW 11TH AVE Portland, OR 97209 - Pearl District - $799,999
See the listing here: http://www.propertiesofportland.com/11376706
5. 3505 NE 77TH AVE Portland, OR 97213 - Roseway - $249,900
See the listing here: http://www.propertiesofportland.com/11535387
Did you know there are nearly 100 unique Portland neighborhoods? Learn more about these interesting Portland neighborhoods.
---
Powell's Bookstore Picks
About Powell's Books: Powell's personifies Portland in so many ways: first of all, it's an independently owned bookstore. Portland in general is highly supportive of locally owned businesses and supporting the local economy. While we don't outwardly shun all big box chain stores, we prefer to do our business at home. Perhaps more importantly, Powell's Bookstore is simply one of the finest bookstores in the world. Powell's City of Books takes up an entire city block downtown, and you can get lost for hours exploring the labyrinth of color-coded rooms. You will probably need a map, the store is so big... Read more about Powell's Bookstore
We love Powell's!
Portland Book Review of the Day
---
That's it for now
We hope you enjoy reading our weekly Portland blog. Want to see more or less of something? Let us know! Once again, thanks for being here and making this Portland website such an asset to the community! If you love this site as much as we do, tell your friends! Have a great weekend! PS -- Want to read back issues of this blog? Here ya go!
New to the site and want to add your own two cents to the Portland blog? Please do! But please remember to keep it real and community focused. Read our terms of use and don't spam the planet with self promoting material or weird stuff as it will just get deleted. We have a zero spammer policy to keep the site valuable and hassle free for our members. Thanks!