Portland Blog: This Week in Portland, June 29, 2013
Hot, Hotter, Hottest! That's what the Portland weather forecast calls for over the next couple days in Portland. So this is your Stay Cool in Portland edition of our weekly blog. Hang out on the river, visit the coast, have some ice cream, or visit your Portland neighborhood swimming pool. Stay cool and enjoy the summer weather.
Portland Ice Cream Shops | Portland Frozen Yogurt Shops
Below are several popular Portland ice cream shops around Portland. This is by no means an all-inclusive list. When I was a little girl, it was always a treat for Grandma & Grandpa to take us to Dairy Queen or Baskin Robbins--nowadays you can get so many amazing and unique ice cream flavors. Portland is full of great ice cream shops all over town.

Downtown Portland Ice Cream
Lucky Spoon Frozen Yogurt - 780 SW Jefferson St
Cool Moon Ice Cream - 1105 NW Johnson St.
Ben and Jerry's - 301 NW 10th Ave, 524 SW Yamhill St
Skinnidip - 633 SW Morrison St
Cool Harry's Yogurt - SW 10th Ave & Alder St
Ruby Jewel - 428 SW 12th Ave
TartBerry - 915 SW 9th Ave
Chef Fresh Frozen Yogurt - 340 SW Morrison St
Irah's Coffee & Yogurt Lounge - 1755 SW Jefferson St

North Portland Ice Cream
What's the Scoop - 3540 N Williams Ave
Scoop Handmade Ice Cream - 2730 N Killingsworth St
Ruby Jewel - 3713 N Mississippi Ave
Tonalli's Doughnuts & Cream -8037 N Lombard
Baskin Robbins - 5330 N Lombard St
Ice Cream at Lovely Fifty Fifty's on N. Mississippi Ave - Photo by Angela Higgins
Northeast Portland Ice Cream
Salt and Straw - 2035 NE Alberta St
Staccato Gelato - 232 NE 28th Ave
Roses Ice Cream - 5011 NE 42nd Ave
Yo Yumba - 2201 Lloyd Center

Southeast Portland Ice Cream
Scoop Handmade Ice Cream - 4926 SE Division St
Nectar Frozen Yogurt - 1631 SE Bybee Blvd
Cloud City Ice Cream - 4525 SE Woodstock Blvd
Fifty Licks - 4265 SE Belmont St
Swirl Frozen Yogurt - 3538 SE Hawthorne Blvd
Ben & Jerry's - 1428 SE 36th Ave
Green Apple Self Serve Frozen Yogurt - 4326 SE 82nd Ave
Yorganic Frozen Yogurt - 9738 SE Washington St

Southwest Portland Ice Cream
Twist Frozen Yogurt Lounge - 7535 SW Barnes Rd
Peachwave Frozen Yogurt - 3205 SW Cedar Hills Blvd.
Nectar Frozen Yogurt Lounge - 7847 SW Capitol Hwy

Northwest Portland Ice Cream
Alotto Gelato - 931 NW 23rd Ave
Ben & Jerry's - 39 NW 23rd Pl
Skinnidip - 2230 W Burnside St

Find More Portland Ice Cream Shops on Yelp.com
View Larger Map
---
Portland Swimming Pools
Below, from City of Portland, Parks & Community Centers with Swimming Pools in Portland...
---
Portland Area Swimming Holes
Be careful if you go swimming in moving waters, especially in an area without life guards. If you are swimming in the Pacific ocean, beware of rip tides. Oregon rivers can have swift, strong currents: please be careful and consider wearing a lifejacket.
Portland Monthly Magazine published an article on eight great Northwest swimming holes near Portland.
---
McMenamins Edgefield Soaking Pool, Photo by Emilie

Kayak Paddle at Clear Lake by aquaticsquirrel
Oregon Coast by Rachel Carlson
Early Morning Fishing on the Columbia by Earl R. Thomas
---
Poke and Prod
Written by PortlandNeighborhood Guest Writer, Rob Creighton Garrison
Our next-door neighbor Judy owns a dachshund named Munchkin. Munchkin is a dear soul who loves nothing better than to run around in the yard and play fetch with her orange tennis ball and her mom-human, and every once in awhile dare to stand nose-to-nose with one or another of our feline brutes (from the safety of the other side of a screen door). She's white around the muzzle and a bit girthsome, but she's always ready for her ball, the mere mention of which sends her ears up radar-ready.
Recently Munchkin had a little health crisis, a swelling on one side of her neck. Her energy dropped to zero, and if she was petted or picked up at the wrong angle she yelped in obvious agony. We were all concerned for her, and the missus and I wondered if we were about to find ourselves consoling our neighbor on the occasion of her dear old friend's demise.
To the rescue: acupuncture!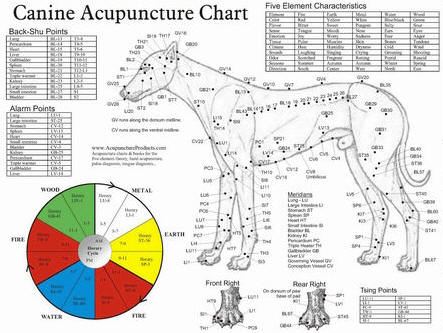 Yes, acupuncture for a dog. Who knew? Apparently everyone but me. Judy took Munchkin to a veterinary clinic that offers acupuncture, and in a matter of days Munchy was back to her old self, dashing through the chin-high (for her) grass in search of her favorite orange orb.
Now me, I'm a natural-born yet unwilling skeptic. I like the idea of ghosts and UFOs and Nessie, but logic successfully prevents me from believing in them. Sticking needles in people and animals to make them healthier? My brain says No Way...and yet it can't be denied that thousands, nay, millions, of human beings have sworn acupuncture (and its more touchy-feely cousin, acupressure) made their illnesses and depressions and all manner of what-have-yous go away. And here's the thing that tilts my own needle closer to the "Hmmm, well...? side of the skeptic dial: Humans have an amazing ability to make themselves believe a lot of weird stuff. Yeti, Gray Men, Chupacabra! (I can't type that last term without the exclamation mark; chupacabra! See?) So certain people will accept without question and without fear the concept of introducing metal pointy things in their various bits to make them well, and in so doing, convince themselves that it's working. Bio-feedback, self-deception, whatever. BUT...
...animals don't have the capacity to wish themselves well, certainly not when some stranger in a mask is jabbing them with a sharp object.
Information about the topic I managed to find on-line states that there is no hard evidence suggesting the practice does any good. And yet Munchkin was all happy-skippy within days, after more traditional Western medical applications seemed to be ineffective.
I got nothin'. Maybe it really works, maybe it doesn't. All I can say is, whereas I found plenty of photos of acupunctured dogs, I have yet to find one showing a cat getting poked. It could be argued that dogs, people-pleasers that they are, would be willing to sit still for it if they think you're happy about it. Cats don't play that. Cats will cut you, dude.
"Considering that I actually carry puncturing devices of my own at all times,
this cruel insult is extremely short-sighted of you."
If you're a believer, more power to you. My googletron suggests that Natural Healing Veterinary Acupuncture, LLC and Northwest Neighborhood Veterinary Hospital are good choices for your pet pal. Should any humans be curious about the benefits of acupuncture, there's the well-regarded Inner Gate Acupuncture. A lot of people seem to swear by the treatments offered at these clinics, so who am I? Don't mind me.
But psst! Wouldn't you rather have a massage sans puncture? Tell him Rob sent you.
---
Portland Photo of the Week
Community Cycling Center on Alberta Street by Rob Creighton Garrison


This week Portland Photo of the Week winner is by Rob Creighton Garrison who got outside with his camera on Alberta Street! Rob wins Portland photo of the week and a Powell's Books gift card.
---
Featured Portland Events this Week
Each week, we feature a handful of member-added Portland events to the blog. You can always add your own Portland events directly to the Portland events calendar. Visit
http://community.portlandneighborhood.com/events
June 1, 2013 at 10am to August 18, 2013 at 5pm – World Forestry Center Ansel Adams (1902-1984), photographer, environmentalist, and social activist, is recognized as one of America's foremost photographers. HIs life's work established photography as a truly legitimate a… Organized by Amber Morrison | Type: exhibit
June 8, 2013 at 10am to September 8, 2013 at 5pm – Portland Art Museum Portland is the only US venue to showcase this special exhibition that will feature some 40 iconic bicycles showcasing pivotal moments in the evolution of bicycle design. Each bike was hand chosen fr… Organized by Henry Moreno | Type: art, exhibit
June 15, 2013 at 10am to October 31, 2013 at 7pm – Oregon Historical Society http://ohs.org/exhibits/upcoming/windows-on-america.cfm Organized by Oregon Historical Society | Type: exhibition
June 16, 2013 to June 30, 2013 – Various The Portland Jewish Film Festival explores themes of spirituality and Jewish identity throughout all parts of the world, especially how American Jews perceive themselves in a larger social context. T… Organized by Portland Jewish Film Festival 2013 | Type: portland jewish film festival 2013
June 17, 2013 at 9:30am to August 15, 2013 at 4pm – Portland Metro Arts SUMMER FUN AT PMA. A rich variety of exciting half-day and whole-day camps/workshops are available. Some programs focus specifically on dance, music, theatre or visual arts. Others are multi-arts,… Organized by Elizabeth Allen | Type: camps, and, classes
June 27, 2013 to June 30, 2013 – "Overlook Park" Two of Portland's beloved industries - organic beer and sustainability - come together in an annual celebration designed to raise awareness about organic beer and sustainable living. We serve u… Organized by NAOBF | Type: portland beer
June 27, 2013 at 8pm to June 30, 2013 at 6pm – St. Mary's Academy Organized by BodyVox | Type: performance
June 28, 2013 to June 30, 2013 – Portland International Raceway Al Unser, Jr., and Corvette celebration at the Portland Historic Races June 27-30The thirty-seventh running of the Portland Historic Races at PIR is shaping up to be one of the best in years. The 60t… Organized by HMSA | Type: auto, show, and, race
June 28, 2013 at 7:30pm to June 29, 2013 at 7:30pm – The Hollywood Theatre Dust off your plaid because the Adventures of Pete and Pete are coming to the Hollywood Theatre. Originally airing as a short between shows in 1989 on Nickelodeon, the dynamic brother duo soon becam… Organized by The Hollywood Theatre | Type: film
June 29, 2013 from 12pm to 4pm – Portland Art Museum The effect of bicycling on women's culture has remained largely hidden for decades. Join speakers throughout the day as they shine a light on this fascinating aspect of history and look ahead to see… Organized by Henry Moreno | Type: lecture
June 29, 2013 from 6pm to 10pm – Bella Organic and Portland Pumpkin Farm The farm is the place for families to meet, share the bounty, enjoy nature and yes, listen to local sounds by local artists.We will be hosting a Harvest Concerts series Saturdays starting at 6:00 P… Organized by Bella Organic Farm | Type: music, festival,
June 29, 2013 from 7pm to 8:30pm – St. Michael and All Angels Episcopal Church Celebrating sun, blue sky, and love, in folk songs from Armenia, Bulgaria, Finland, Croatia, Turkey, Czechoslovakia, England, and North America. Following ViVoce tradition, these folk and folk-based… Organized by Portland Revels | Type: choral, concert
June 30, 2013 from 2pm to 5pm – Portland Breweries - Gigantic, Bridgeport & Amnesia We begin at Gigantic Brewing a very small 15 barrel brewery in the inner SE that is stubbornly small in size but gigantic in heart and passion for craft beer. We then head to Bridgeport, Oregon's old… Organized by Brewvana - Portland Brewery Tour | Type: brewery tour
June 30, 2013 from 2pm to 4pm – To be disclosed to ticket purchasers. This eleven-block downtown area was first platted and donated to the City in 1852, transforming a fire break parcel into the most desirable residential area of its day –complete with schools, playgro… Organized by Architectural Heritage Center | Type: tours
---
The Best Deals in Portland This Week
Ross Seligman shares five great Portland real estate deals here on the blog each week. If you're looking to buy a home in Portland, maybe one of these Portland homes for sale is the one for you!
The Best Deals in Portland This Week:
June 24th - July 1st

1. 1911 NE THOMPSON ST Portland, OR 97212
-IRVINGTON-
$1.295M
Click The Image To See The Full Listing
2. 3945 SE PINE ST Portland, OR 97214
-LAURELHURST-
$708,500
Click The Image To See The Full Listing
3. 6702 E BURNSIDE ST Portland, OR 97215
-MT. TABOR-
$625,000
Click The Image To See The Full Listing
4. 4544 N VANCOUVER AVE Portland, OR 97217
-HUMBOLDT-
$429,000
Click The Image To See The Full Listing
5. 1125 NW 9TH AVE Portland, OR 97209
-PEARL DISTRICT-
$280,000
Click The Image To See The Full Listing
www.propertiesofportland.com
---
We hope you enjoy reading our weekly Portland blog. Want to see more or less of something? Let us know! Once again, thanks for being here and making this Portland website such an asset to the community! If you love this site as much as we do, tell your friends! Have a great weekend!
PS -- Want to read back issues of this blog? Here ya go!
Connect with Portland
Check out our online community
---
Thanks for reading this Portland blog. Check out these other helpful pages about Portland:
Portland Neighborhood Boundary Map
Portland sites we love:
---
Local Portland companies we love: